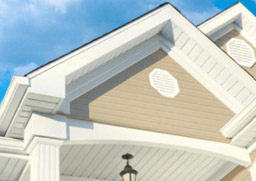 Gable Vents can complement your exterior cladding by filling in the large, same coloured gable area with an aesthetic feature. They also add to the internal comfort by ventilating the ceiling area above.
Our own design, they're attractive and featuring the same woodgrain finish for a natural feel without the maintenance.
Our vents and windows come in enough shapes to fit all architectural styles. So it doesn't matter whether your home is traditional or contemporary. The windows have external cross grills and clear acrylic panes, and they're all fully screened for complete insect protection.
Weep holes prevent damage caused by condensation build up. And they lower your energy costs and increase the structural longevity of your home.
Gable Vents Fit Perfectly
Duraflo offers a number of advantages to ensure a perfect fit of gable vents and windows for your home:
• 50mm J channel for easy trimming access
• Removable template to ensure an exact fit
• Large flange and level lines for easy, high quality installation
• Patented drip channel than funnels water out and over the external cladding
Limited Lifetime Warranty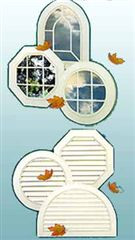 Sure, your Prestige Exteriors gable vents and windows are tough and weatherproof. But they're also guaranteed not to split, chip, warp or rot.
So enjoy peace of mind with a limited lifetime warranty provided by the manufacturer.
To complement your vinyl weatherboards with the beauty and functionality of our gable vents and windows on your home, contact us today or submit an inquiry and we'll contact you. Or you can have a look at our supplier's Gable Vents Online Shop.